The Crazed Drunk Artist (TheMI3's Worklog)
What I got is gonna turn your universe into shit.

Crazy Run Anim
I did a *ahem* pencil test of a run animation this morning. It's sort of a homage to Sonic, but that's partly because i have no actual experience animating running. Truth be told, my animation experience extends to a sprite edit of tails I made as an avatar back in the day.
Some bizarre Poké pc 'ads' (thankfully dissolved into the ether). And trying to animate a ball last summer and giving up in dispair when I ran out of paper. And also reading
Cartoon Brew
Here it is.
I know it's just a pencil test, and even the pencil tests at disney look a bit crap, but it's still a bit disheartening. Although it's totally fixable. There's only 4 frames (two of which are the same) and its, well, in pencil. I also like the entirely unintentional, yet quite good, arm movement. Where it follows the head and stuff. Also, the reason for its huge size, is because it looked wank when reduced down. i'll have to scan it in at the highest res possible when i finally do it i think. I might just wuss out and do all the people in graphics gale. Less stressful?
I also started to do something of a mock up a week or two ago, but i didnt actually finish the background (which is going to be all painted and cool and shit). But here's the gist of it.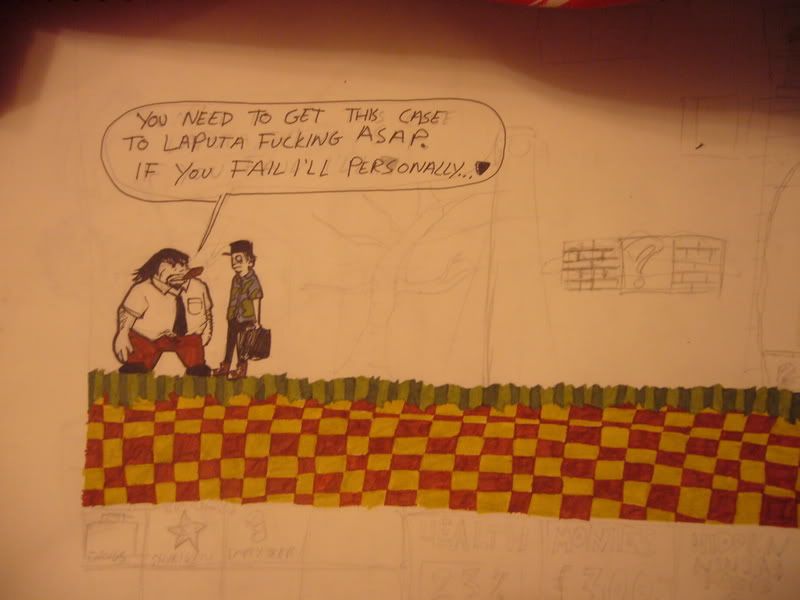 Furtherings
Last night I asked Woody if he still wanted to make the game and, thankfully, he said yes.

I just sent him a really long email full of ideas. But the crux of it is that I want the game to look like an animated illustration of strangeness. I think I'm going to be using traditional forms of mark making where possible. With painted backgrounds, and characters coloured in markers and stuff.
More Concepts
I did some doodles today after i finished my project for tomorrow. (my lecturers disliked my zombie thing so i had to redo it).
First is an idea for Escobar. Woody liked the guy with the emo cap from before, so I took his head, and gave him a Hunter Thompson shirt and an attache case of drugs.
Next is a concept for the starting area. I always imagined it being in the middle of a dustbowl and the single building being the total garage near my house. Note, this is before the game gets trippy.
Second note, I don't normally draw environments, in case you cant tell.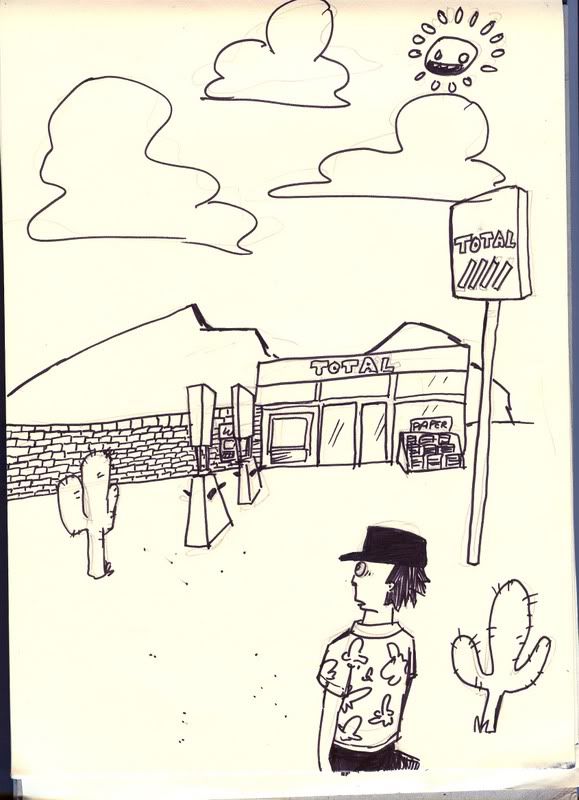 This is a coloured version of the game over screen i posted before. I probably wont do much more to it. But I think it could have come out better.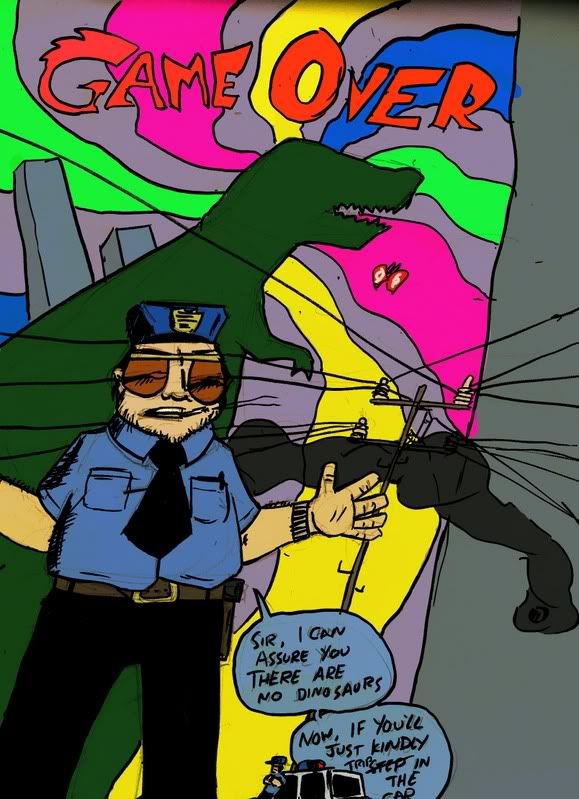 Not For The Game
But I've spent too much time thinking about these to not show anyone. I guess I could use them as textures maybe.
For my course we had to create some anti-protest posters and stuff. I couldnt think of anything 'proper' so i decided to go Anti-Zombie. They are a bit naff.
I made about 5 posters but these are my two favourites. I'm going to print them onto coloured paper so they look like actual street posters or something.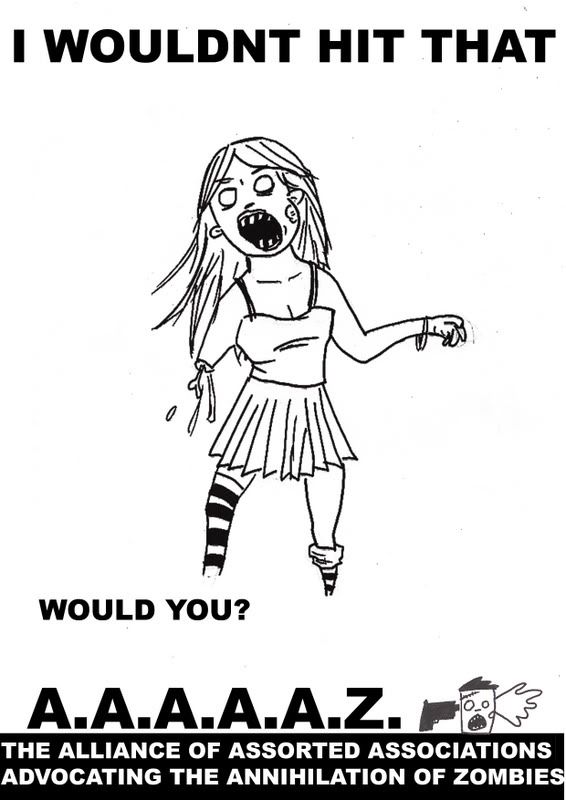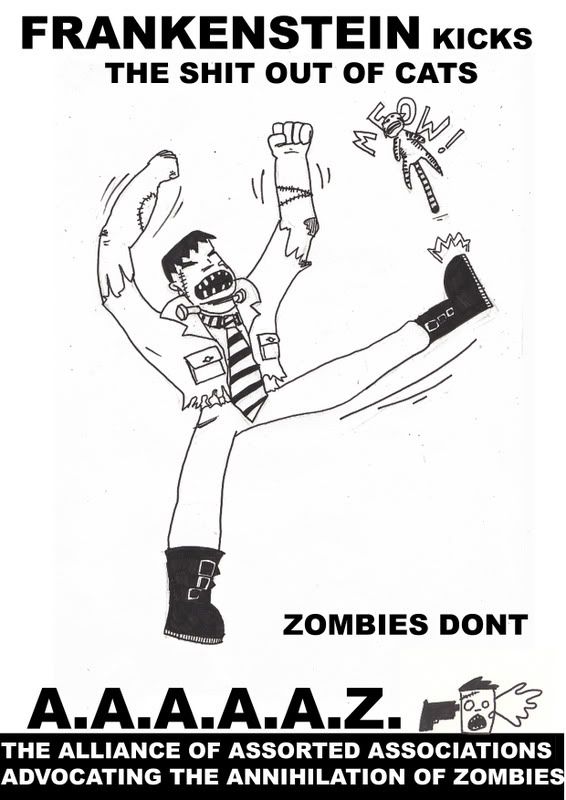 Concept Art
I did some concepts for the game me and woody may or may not be making.
I was bored.
Here are all concepts for the main character, who we've given the tentative working name of 'escobar'. Named after some drugs lord. I will be calling him escobar until I come up with a better name.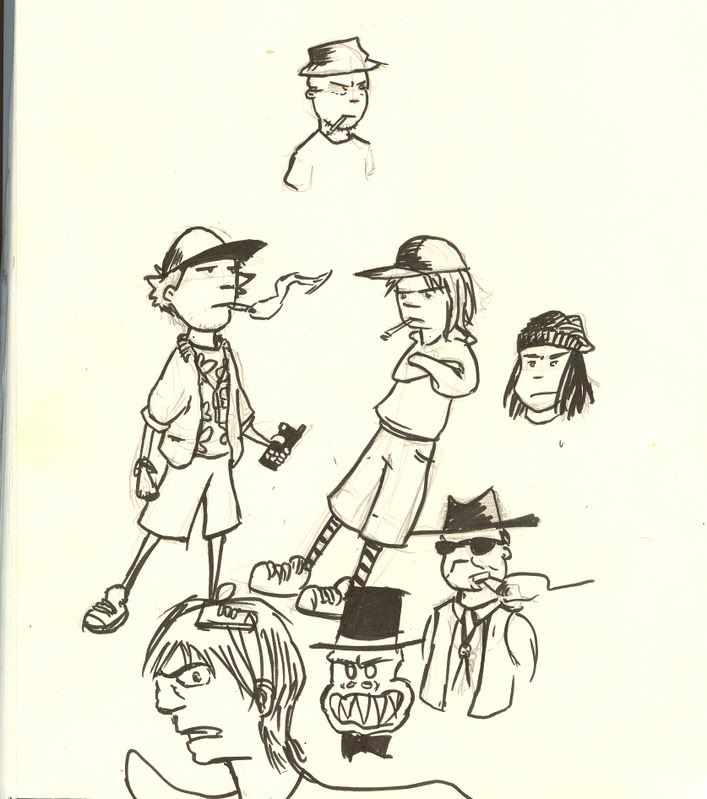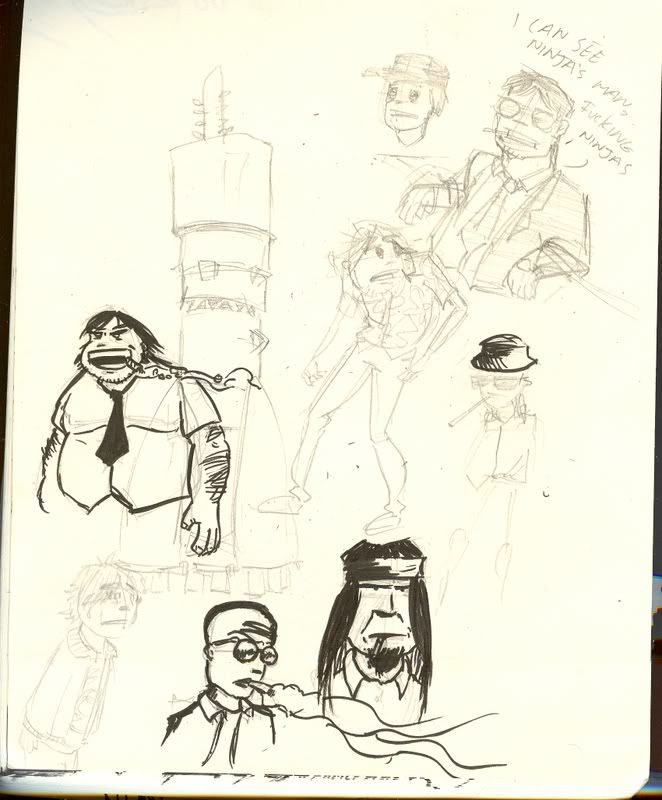 None of the ideas actually grab me yet, and I kinda want to see Wood's reaction as well. It's his damn game too.
I do like the crazy alien thing with the top hat though.
I also did a concept for the Game Over screen. I think hiding from the police will probably end up as a gameplay dynamic. So it sort of makes sense.
I can't wait to put some colour on this bitch.